Item # SETUP20
20 DRAWERS WITH CLIPS, CABINETS AND STANDS
$1,725.00000 / PKG
Package Quantity: 1
Must Order By the Package. All Items Sold in Package Qty.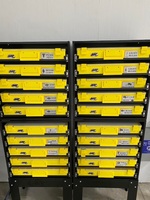 Item # SETUP20
20 DRAWERS WITH CLIPS, CABINETS AND STANDS
OUR PREMIER BODY SHOP ASSORTMENT. 17 DRAWERS FULLY STOCKED AND LABELED. 3 DRAWERS ARE EMPTY FOR EXPANSION AND GROWTH. THE CABINETS AND STANDS ARE INCLUDED. BUY COMPLETE AND SAVE!

Item
Qty
DWR24L
24 POSITION LARGE YELLOW TRAY
2
DWR32L
32 POSITION LARGE YELLOW TRAY
1

KITBB


BODY BOLT FOR SETUP
1

KITBLB1


LAMP ASSORTMENT BOX 1 OF SETUP
1

KITBLB2


LAMP ASSORTMENT BOX 2 OF SETUP
1

KITBTE


BODY TIE ELECTRICAL ASSORTMENT
1

KITEXP1


KITEXP1 OF SETUPDWP
1

KITEXP2


KITEXP2 OF SETUPDWP
1

KITEXP3


KITEXP3 OF SETUPDWP
1

KITHC


HOOD CLIP ASSORTMENT DRAWER #2
1

KITPP


PUSH PIN DRAWER OF SETUP
1

KITRIV1


RIVET DRAWER 1 OF SETUP
1

KITRIV2


RIVET DWR 2 FOR SETUP
1

KITUC


U-CLIP/FLANGE NUT FOR SETUP
1
RACK5DR
5 DRAWER BLACK STEEL CABINET
4
STND5DR
STAND FOR STORAGE RACKS BLACK
2
×
This website uses cookies to ensure you get the best user experience. By continuing to use this site, you agree to our Privacy Policy.