Item # SETUPULT
BODY FASTENER ASST, BOLT ASST, ELECTRICAL ASST ALL IN ONE
$2,870.34000 / PKG
Package Quantity: 1
Must Order By the Package. All Items Sold in Package Qty.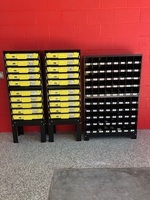 Item # SETUPULT
BODY FASTENER ASST, BOLT ASST, ELECTRICAL ASST ALL IN ONE
PERFECT FOR THE MECHANICAL AND COLLISION CENTER. THIS ASSORTMENT GIVES YOU GOOD COVERAGE OF BODY FASTENERS ALONG WITH ALL THE MECHANICAL ITEMS NEEDED. INCLUDING STANDARD AND METRIC BOLT BINS. BUY A PREMADE ASSORTMENT AND SAVE BIG!

Item
Qty
BIN40A
40 POSITION GRADE 5 ASSORTMENT
1
BIN40M
40 POSITION METRIC ASSORTMENT
1
DWR32L
32 POSITION LARGE YELLOW TRAY
1
HOSECP
10 SIZES HOSE CLAMP ASSORTMENT IN DRAWER
1
KITBAT
BATTERY TERMINAL ASSORTMENT
1
KITBBUC
BODY BOLT U-CLIP ASSORTMENT
1
KITDOR
TRIM PANEL ASSORTMENT
1
KITDPG
DRAIN PLUG/GASKET ASSORTMENT
1
KITEXP
EXPANSION FASTENER ASSORTMENT
1
KITFUSX
FUSE ASSORTMENT ATM/LP/ATO/PAL
1
KITHAL
HALOGEN LAMP ASSORTMENT
1

KITLMP1



1

KITLMP2



1
KITMTL
METAL RETAINER ASSORTMENT
1
KITNY24
ELECTRICAL TERMINAL ASSORTMENT
1
KITPIN1
PUSH PIN ASSORTMENT
1
KITPLS
PLASTIC RETAINER ASSORTMENT
1
KITRIV
RIVET ASSORTMENT
1
KITSCR
SCREW ASSORTMENT
1
KITSHKX
HEAT SHRINK ASSORTMENT
1
KITTIEX
CABLE TIE ASSORTMENT
1
KITVCPX
VACUUM COTTER PIN ASSORTMENT
1
RACK5DR
5 DRAWER BLACK STEEL CABINET
4
STND5DR
STAND FOR STORAGE RACKS BLACK
2
STNDBIN
STAND 40 POSITION BOLT BIN BLACK
1
×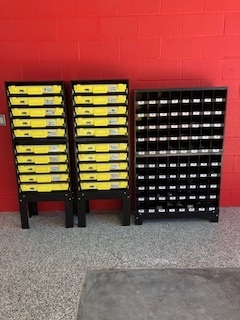 This website uses cookies to ensure you get the best user experience. By continuing to use this site, you agree to our Privacy Policy.